Dear Friends of Cooper Square,
As a supporter of affordable housing and neighborhood preservation, you've helped make the Cooper Square Committee (CSC) a vital force in our community. In 2017 we've had some tremendous successes:
COMBATTING PREDATORY LANDLORDS: CSC worked with Urban Justice Center and St. Nicks Alliance to lead a citywide campaign, Stand for Tenant Safety, to compel the NYC Department of Buildings (DOB ) to confront disruptive renovation in occupied buildings, known as "Construction as Harassment". Working with citywide housing groups and local elected officials, the City Council passed 12 bills to strengthen tenant protections, increase fines on bad acting landlords, and create a "Real Time Enforcement Unit" at DOB. (Photo of Mayor deBlassio signing the legislation)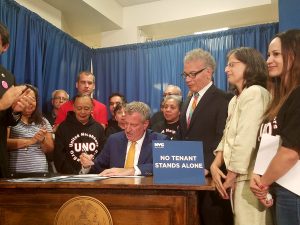 Based on advocacy by the Stop Croman Coalition, Cooper Square Committee and Good Old Lower East Side, the NYS Attorney General investigated several local landlords, resulting in the felony indictment of the notorious Steve Croman and his being sentenced to one year in prison. Our organizing work with the Toledano Tenants Coalition focussed media attention on him and the lenders that enabled him to acquire and mismanage over 30 buildings, resulting in his filing for bankruptcy and foreclosure on most of his housing portfolio.
BUILDING HOUSING FOR HOMELESS LGBTQ YOUTH:: CSC managed the construction of the Bea Arthur Residence for 18 homeless LGBTQ youth. Construction is complete and residents should be moving in sometime in January, 2018.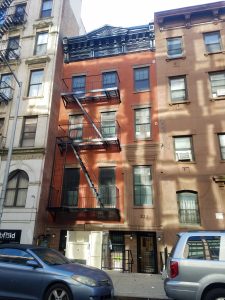 GREENER AND MORE RESILIENT HOMES: We enrolled 6 low income buildings in various weatherization and resiliency technical assistance programs to make them more energy efficient and prepared for climate change, and have initiated a series of resiliency workshops for low income cooperatives (HDFC's) to help them minimize flooding during a natural disaster. We have assisted the Cooper Square Mutual Housing Association in applying for a Green Housing Preservation Loan in order to install solar panels on the roofs of 5 buildings on East 4th Street.
CREATING A NEIGHBORHOOD NORC
The CSC area was designated a Neighborhood Naturally Occurring Retirement Community (N-NORC) 2 years ago. We are building up this program, holding ongoing senior programming at 2 JASA senior housing sites. Our workshops covering health, legal and financial topics promote health aging so that seniors can age in place.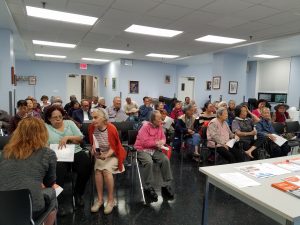 YOUR DONATIONS HELP US TO:
STOP PREDATORY LANDLORDS FROM DISPLACING TENANTS: To assure that the Department of Buildings enforces the new laws protecting tenants' 'rights, we will hold community wide informational workshops about the law and train tenants to monitor enforcement. A donation of $25 will help us create educational material about the package of new tenant protection laws.
KEEP FAMILIES SAFE AND WARM: We will continue working with low income cooperatives, (HDFC's), replacing old boilers and drafty windows. The environment as a whole benefits from this reduction of the carbon footprint. A donation of $75 will provide door sweeps and weather stripping for all the windows in two apartments.
PROVIDE SHELTER FOR HOMELESS LGBTQ YOUTH : Up to 40% of all homeless youth identify as LGBTQ, and they face a higher risk of violence and exploitation while homeless. CSC has started pre-development work on another residence for homeless LGBTQ youth in Astoria, Queens. A donation of $100 will help cover a portion of staff time working on this project.
HELP SENIORS AGE IN PLACE: We are working to develop a stronger support system for seniors so that they can live independently in our community. A donation of $50 will help us connect a local senior to a home health aide and Meals on Wheels so they can remain in their home.
Please invest in building a healthier, safer and more inclusive Lower East Side/East Village Community. OUR BOARD WILL MATCH THE FIRST $2,500 IN DONATIONS. We accept checks, cash, money orders or you can donate at www.coopersquare.org/donate. Thank you from the entire Steering Committee and staff for supporting our work.
Yours truly,
Steve Herrick , Executive Director