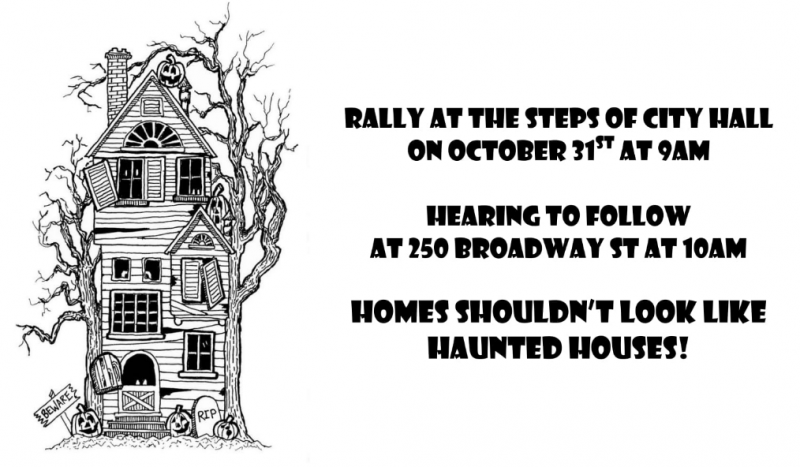 What: City Council Hearings supporting both Stabilizing NYC and Stand for Tenant Safety legislation
Stabilizing NYC (SNYC) is a citywide coalition against predatory equity
Stand for Tenant Safety (STS) is a citywide coalition to fight construction-as-harassment and reform the Department of Buildings
Where and When (join us at one or both):
Oct. 31st from 9:00AM-10:15AM (Rally and Press Conference: Steps of City Hall)

Oct. 31st from 10AM-1PM (City Council Hearing: 250 Broadway, 16th Floor)
Cooper Square Committee is a partner in both SNYC and STS. We think the bills being heard on Monday are really important ones and we need all tenants to consider coming out to support them.

Bills will focus on:

0930-2015 (CM Kallos): Giving the city power to foreclose on buildings that have accrued unpaid fines for violations [

SEE DETAILS

]




1211 (CM Torres): Creating, maintaining, and publishing a watch list for multiple dwelling owners who have engaged in practices associated with predatory equity [

SEE DETAILS

]




1210 (CM Torres): Creating a rebuttable presumption regarding tenant harassment in multiple dwelling buildings that has a debt service ratio of less than 1.05 (putting them on the watch list) and harassing acts or omissions committed by the owner caused or were intended to cause tenants to vacate the dwelling (I don't know how to simplify this one) [

SEE DETAILS]
The City needs to collect their fines against bad landlord who use construction to harass. And all of these same landlords fit the def of predatory equity, so please come out to show supp for the councilmembers who are pushing these bills forward, show the bad-acting landlords that employ such tactics that tenants won't stand for construction as harass and predatory equity.
Let Brandon know if you can make it to the rally & press conference, and/or to the hearing — if you want to testify, Brandon can give you some pointers. Email him here.