Cooper Square Committee members and staff joined hundreds of tenants who turned out for a rally and public hearing held by the NYC Housing Authority (NYCHA) on July 24th at Pace University to protest NYCHA plans to lease 18 parcels of land at eight Manhattan housing projects for luxury housing. 8 parcels at five Lower East Side projects are part of the plan – at Smith Houses, Baruch Houses, Laguardia Houses, Campos Plaza and Meltzer Tower.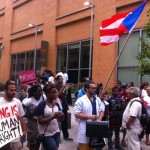 NYCHA plans to issue an RFP to private investors, inviting them to build about 4,300 mostly luxury apartments under the 80/20 housing program. About 2,040 of the apartments would be on the Lower East Side. The largest development, over 1,050 apartments would be right next to Smith Houses.
NYCHA claims it needs the estimated $50 million in annual revenue from the 99-year leases to help close a $65 million annual budget deficit. NYCHA needs the approval of the federal Department of Housing and Urban Development in order to proceed with the plan.
NYCHA, established nearly 80 years ago, houses 600,000 of the City's poorest residents, and has a waiting list of over 227,000 applications. It gets about $2 billion annually from the Federal government, but 11% sequester cuts that took effect earlier this year slashed $205 million in federal funding for NYCHA, only part of which were rescinded when the Bloomberg administration came up with $58 million for FY 2014.
Angry tenants believe NYCHA's RFP signals a larger plan to ultimately gentrify the projects and privatize them. While tenants have longstanding complaints about housing conditions in their buildings, with a backlog of 244,000 repair orders, most don't believe NYCHA's assurances that proceeds from the sale of NYCHA land will result in apartment repairs. Even with the additional revenue, NYCHA has $8 billion in deferred capital improvements.
Tenant association leaders have called on the city to close NYCHA 's budget gap by other means. Currently, the city requires NYCHA to pay $100 million a year for police, sanitation and property taxes that are not imposed on other public agencies, essentially taxing the residents twice for basic services. Many elected officials testified in support of NYCHA residents, urging NYCHA to slow down the process and make it more transparent.