Here are images of work in progress on the Bea Arthur Residence for homeless LGBT youth, as of May 5th, 2016: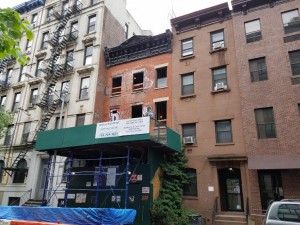 The facade of the Bea Arthur Residence, the old fire escapes and windows have been removed

View of the top floor, new floor joists have been installed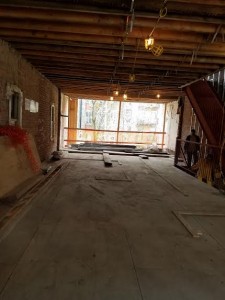 View of the 2nd floor, new floor joists have been installed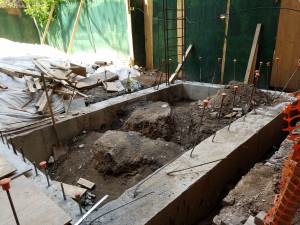 The footings for the rear extension have been poured. Once the concrete slab is poured, the rear masonry wall will be built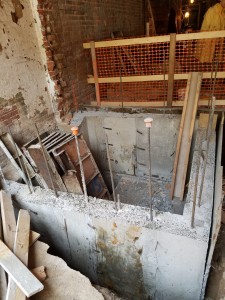 The elevator pit has been excavated and the concrete poured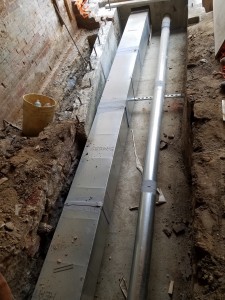 A trench has been dug in the cellar to install plumbing and ventilation systems
The Cooper Square Committee, a housing preservation organization, and the Ali Forney Center, an organization that serves homeless LGBT youth, have partnered to acquire and renovate 222 East 13th Street in order to provide quality, safe, transitional housing for homeless LGBT teenagers and young adults, ages 18 – 24. The building is known as the Bea Arthur Residence.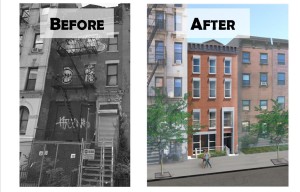 There are an estimated 4,000 homeless teenagers in NYC. According to a 2008 Census survey, up to 40% (1,600 homeless teenagers) are LGBTQ. As LGBT youth come out earlier, unfortunately some of them face rejection by their parents and are forced out onto the streets. These otherwise high functioning young people are placed at risk. They need a safe environment, which this housing will provide, so that they can prepare for adulthood.
Cooper Square Committee and the Ali Forney Center formed the Bea Arthur Residence Housing Development Fund Corporation (HDFC) as part of the solution to this crisis. We obtained a $3.3 million capital grant from the New York City Council and the Borough President in Fiscal Year 2013, and $40,000 in gap financing from private sources.
We hired architectural firm, Magnusson Architecture and Planning to design 222 East 13th Street as a 3 unit building with 3 bedroom apartments to house 18 homeless LGBT youth. This 4 story building is getting an addition in the rear, enlarging it from 4,900 sq. ft. to over 6,000 sq. ft.
Cooper Square Committee is serving as project manager from the pre-development stage through completion of the renovation of the building, right up to obtaining a permanent certificate of occupancy. Upon completion, the Ali Forney Center will handle rent up of the 18 beds and providing the on site supportive housing services to the residents. The Ali Forney Center will occupy the ground floor space.
On June 30, 2015, the Bea Arthur Residence HDFC acquired 222 East 13th Street from the City's Department of Housing Preservation and Development. Renovation began on September 8th, 2015. After work started, we experienced a 6-week Stop Work Order in late October because the Dept. of Buildings found that the chain link fence in front of the building that had been installed by the City in the year 2000 was done without a permit. We resumed in early December, 2015.
The renovation, which will be carried out by our general contractor, Builders-R-Us Construction Corporation, will restore this historic building, which dates from 1851, and provide a safe home for 18 homeless LGBT youth so that they can live free of stigma and make plans for their future.
If you wish to make a donation in support of this project, you can make a check payable to "The Bea Arthur Residence HDFC" and mail it to c/o Cooper Square Committee, 61 East 4th Street, New York, NY 10003. This project is on a tight budget, and we need to raise another $35,000 to deal with increased soft costs during construction, including special inspection fees and a new City requirement that we file a fire safety and evacuation plan.