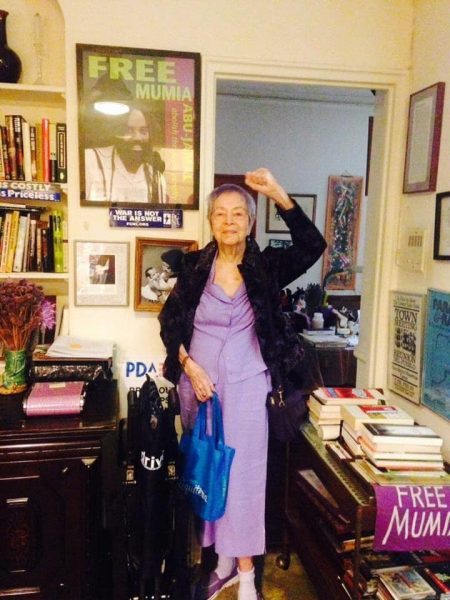 Dear Cooper Square Committee Community,
Today we are remembering our fierce and inspiring co-founder, Frances Goldin.
On Saturday May 16th after a long gradual decline in health, Fran died in her home on East 11th Street, where she had lived for nearly 50 years. She was 95 years old.
Frances Goldin was an inspirational force for fair and affordable housing throughout New York City, but especially on the Lower East Side, for more than half a century. She was also a figure in the literary world, combining her political conviction with literary discernment and expertise. Fran was proudly radical, dedicating her long life to fighting against injustice and struggling to build a more equitable society. When she saw a wrong that needed to be addressed, she confronted it head-on, with boundless energy and with a combination of leftist conviction and the palpable warmth of human kindness and compassion.
Fran led an amazingly rich life. She grew up as one of the few Jewish families in 1930's Queens, learning the dignity of manual labor from her beloved father, a gifted MTA tool maker and mechanic. Her indomitable spirit and willingness to take on institutional forces was already evident in her teens when she fought off the unwanted advances of her employer, a local rabbi, by biting him hard enough on the hand to make him bleed and then retreat. Her innate political consciousness blossomed while working at the War Shipping Administration where she met and married Morris Goldin, a leader of the Government Workers' Union. She soon became her own political force, growing through political activism and community organizing. By 1951, soon after the birth of her two beloved daughters, Sally and Reeni, she ran for NYS Senate with the American Labor Party as the only woman on a ticket that included W.E.B. DuBois.
Her consistency in radical politics continued throughout the major struggles of more than a half century. Whenever there was a need to speak out for those whose views were not tolerated or whose rights were trampled – Fran was there. She had fought battles alongside many people famous for challenging the status quo – Paul Robeson, Adam Clayton Powell Sr., Pete Seeger, Nina Simone and Mumia Abu-Jumal, to name a few. For more than 40 years, local media coverage of the New York Gay Rights March repeatedly featured Fran's lovingly lettered sign "I Adore My Lesbian Daughters – Keep Them Safe." In 2017 she was honored at that parade on the lead float. In 2011, at the Occupy Wall Street encampment with her sign that said "I'm 87 and mad as hell," a Wall Street Journal reporter captured a moment when Fran indignantly asked a NYC police officer why she wasn't being arrested along with the young demonstrators nearby. The officer explained that publicity had been bad enough – there was no way he was going to arrest a photogenic octogenarian. At the Donald Trump post-inaugural Woman's March with raised fist clenched, she chanted moving through the streets in her wheelchair "92 and Comin' Through!"
Fran focused her fight for affordable housing on the Lower East Side of Manhattan where she had continually lived since the 1940's. She began as a local volunteer organizer of the post-war squatter and rent strike movement. She was one of the founders of the Metropolitan Council on Housing in the late 1950's. Then in reaction to a Robert Moses effort to displace and redevelop a huge swath of her neighborhood for the Cross-Manhattan Expressway she became one of the founders of the Cooper Square Committee. This community effort developed and fought for an alternative plan for the endangered neighborhood from 14th to Delancey Street. Today 328 tenement apartments have been saved and transferred to the tenants through an innovative and precedent-setting cooperative ownership model involving a mutual housing association and an underlying community land trust. Additionally, about 530 new income-restricted apartments have been built in Cooper Square.
Beginning in the 1960's Fran was in the forefront of the struggle for the right of 1800 low-income families displaced from the Seward Park Urban Renewal Area on Delancey Street to return to that community. Fearful of racial and economic integration, the neighborhood's power elite of the time halted the area's development plans. Seward Park became an iconic struggle pitting the largely middle class already assimilated residents of the area against its newer Latino and Asian immigrants. It took 50 years of struggle, but in 2018 a 100-unit low-income senior citizen building was completed and formally named Frances Goldin Houses in her honor. It is one building in the overall development where over 50% of the units are affordable.
While accomplishing all of this, Fran simultaneously pursued her own professional career. Although pre-WW II ideas about the role of women kept her from graduating from high school with an academic degree or going to college, in the 1950's she went to work in a small literary agency and began to learn the trade. By the late 1970's she had founded her own agency, established in a manner totally consistent with her deeply felt ideological principles. She described the Frances Goldin Agency in trade publications as "I do not market any material that is sexist, racist, homophobic or gratuitously violent." Because of the integrity, professionalism and savvy of the founder, the agency attracted and successfully represented such distinguished and highly celebrated authors as Barbara Kingsolver, Mike Wallace, Mumia Abu-Jamal, Marty Duberman, Adrienne Rich, Dorothy Allison and Staceyann Chin.
The impact that Frances Goldin had on the people she met and the causes she fought for was extraordinary. She had to be noticed and taken seriously because of her obvious intelligence, her speaking-truth-to-power style and her conviction. In her early years, there was no doubt that her stunning beauty helped her get attention, and later in her 90s her purple hair and matching jacket adorned with a banner pinned to the back that said "Free Mumia Abu Jamal" guaranteed that she couldn't be dismissed. Fran took on every struggle with fierce perseverance and commitment, but never without basic human compassion and love.
Those of us who are her Lower East Side activist heirs, who learned from her, marched with her and jumped over locked fences with her, will miss her immensely. She will forever be remembered for the inspiration she provided us, and we will continue to carry forward all she taught us.