An exhibition about the Seward Park Urban Renewal Area by students of the City Studio at Eugene Lang College, the New School & Gabrielle Bendiner-Viani, in collaboration with SPURA Matters.
Thursday, February 4, 2010 :: 6-8pm
Common Room 2
465 Grand Street (enter on E. Broadway)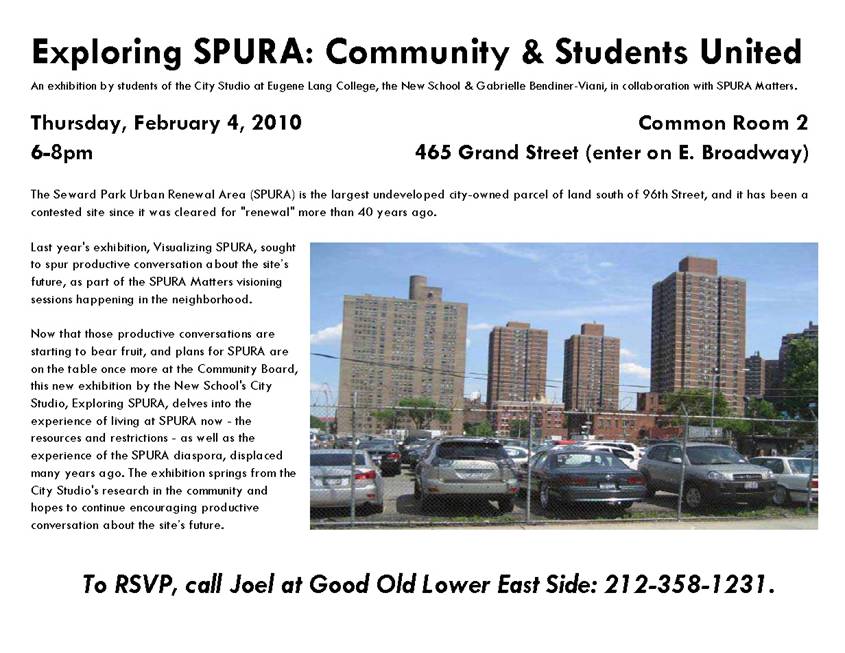 The Seward Park Urban Renewal Area (SPURA) is the largest undeveloped city-owned parcel of land south of 96th Street, and it has been a contested site since it was cleared for "renewal" more than 40 years ago.
Last year's exhibition, Visualizing SPURA, sought to spur productive conversation about the site's future, as part of the SPURA Matters visioning sessions happening in the neighborhood.
Now that those productive conversation aare starting to bear fruit, and plans for SPURA are on the table once more at the Community Board, this new exhibitionmj by the New School's City Studio, Exploring SPURA, delves into the experience of living at SPURA now – the resources and restrictions as well as the experience of the SPURA diaspora, displaced many years ago.  The exhibition springs from the City Studio's research in the community and hopes to continue encouraging productive conversation about the site's future.
To RSVP, call Joel at Good Old Lower East Side: 212-358-1231.