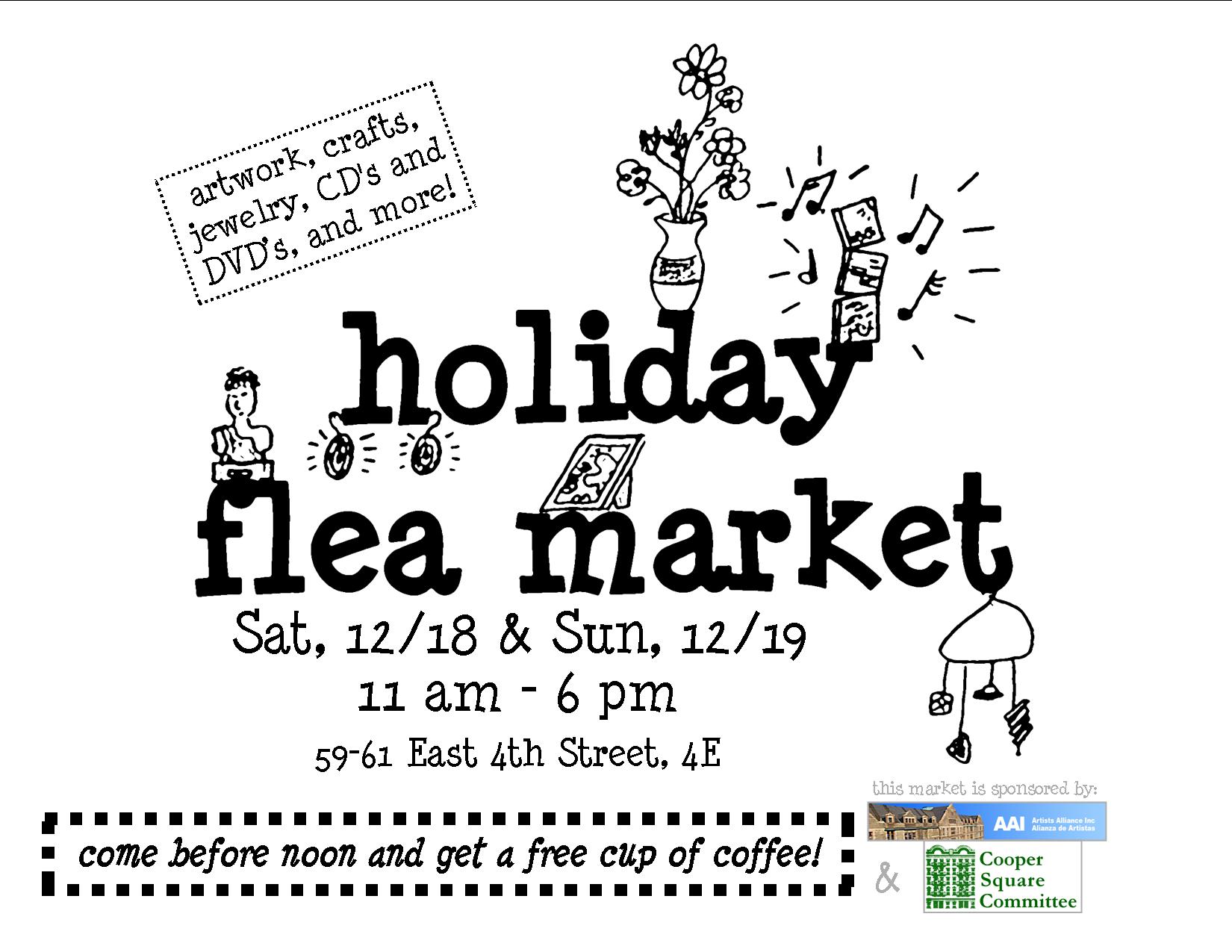 Saturday, Dec. 18th &
Sunday, Dec. 19th
11 am – 6 pm
59-61 East 4th Street, 4E
The Cooper Square Committee and the Artists Alliance, Inc. (AAI) are co-sponsoring an Indoor Pre-Holiday Flea Market in an 1,800 ft2 loft space to raise money for our non-profit organizations.  We will have a variety of vendors selling art work, crafts, jewelry, CD's and DVD's, and miscellaneous other items.  The flea market will be publicized in numerous online and print media publications.
Please note, as of Dec. 7th, all vendor spaces for both days have been rented.
To all participating vendors, the loft space is on the 4th floor, and you can bring your merchandise up on the elevator.  You can start setting up at 9:30 am.  If you are participating both days, you may leave your merchandise in the space overnight as the space will be locked after 6 pm.
If you are bringing merchandise by car, there's street parking, although it can be hard to find a space.  There's a couple of parking lots on Lafayette Street near 4th Street.  You can cart your items into the lobby right up to the space on the elevator which opens up into the loft space.  There are 2 bathrooms on the 4th floor.  There will be refreshments available.  If you wish to bring a lunch, you can store it in our refrigerator.  We will have a microwave for heating up food.
In accordance with Dept. of Consumer Affairs requirements, you should provide receipts, including the cost of the item and tax, to all customers for items in excess of $20.  Non-profit vendors are tax exempt.
You can become a vendor for future markets; send us an email and let us know!