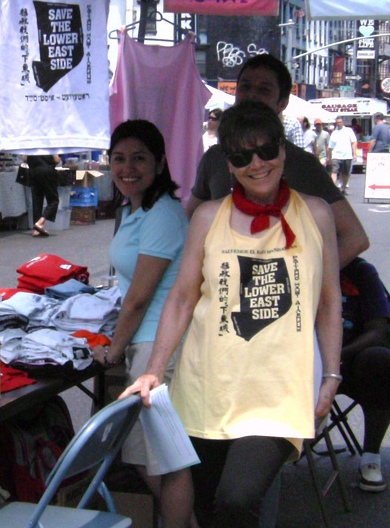 Donate and get various gifts, including Save the Lower East Side t-shirts!
Read about our accomplishments in the past year….
Happy New Year!  As we look back on 2010, the Cooper Square Committee is proud to have achieved a number of impressive accomplishments:
–  Our staff counseled over 750 tenants in 2010, preventing evictions, addressing housing code violations, suspected rent overcharges, allegations of harassment and questions about lease riders.  We helped find housing rfor people with Section 8 vouchers, and assisted scores of people in applying/recertifying for Section 8, as well as SCRIE, Food Stamps, Medicaid & NYCHA.
– We participated in Community Board 3's Seward Park planning meetings, which is moving towards finalizing aplan for developing about 1,000 apartments in the Seward Park Urban Renewal Area, a vacant 7-acre city-owned site.
– We helped the tenants of 10 Stanton Street get a 5-year renewal of their Section 8 contract, preserving their affordable housing.  We also got the owner to agree to weatherize the 146-unit building with new boilers, hot water heaters and windows in all the apartments, as well as other building-wide improvements.
– We administered nearly $23,000 in NYS Main Street funds to two MHA buildings (56 and 67 East 4th Street) to improve their facades.
– We organized the Westbrook tenants, and did a joint workshop for them with the Urban Justice Center to make them aware that buildings with J-51 tax abatements cannot be deregulated.
– We hired an Organizer who is conducting a series of co-op education workshops for over 300 first time homebuyers in a multi-building low income cooperative.
As we look ahead in 2011, we are facing City and State budget cuts, and we need donor support more than ever.  Please consider making a modest donation to support our work.  The following donation levels will receive a variety of gifts, as shown below:
$25.00 — Cooper Square Ally: Receive a "Save the Lower East Side t-shirt" and a 5-day pass to Crunch Gym (on Lafayette and East 4th Street).
$50.00 — Cooper Square Advocate: Receive a pair of the above benefits.
$100.00 — Cooper Square Partner: Receive all of the Cooper Square Advocate benefits plus a complimentary invite to a "Cocktail Reception in 2011" honoring all of  our Cooper Square Partners who donated between Dec. 1, 2010 – April 15, 2011.
$250.00 — Cooper Square Champion: Receive all the Cooper Square Partner benefits plus two tickets to a hit Broadway show:  Choose between several shows, in consultation with our staff, subject to availability.
To make a donation, click on the Donate button to carry out a secure transaction.  Thanks for your support.
Yours truly,

Steve Herrick
Executive Director